Cutaneous Premalignant and Malignant Lesions - Keratoacanthoma and Squamous Cell Carcinoma
Definition
The development of cutaneous premalignant and malignant lesions are rarely derived from multikinase inhibitor treatment (but can occur especially with sorafenib ).
Incidence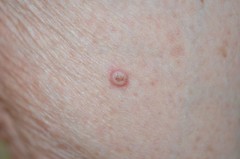 squamous cell carcinoma/keratoacanthoma occurs in 0.09% and 3% of patients treated with regorafenib and sorafenib, respectively.1,2
Onset
In patients treated with sorafenib and sunitinib , the median treatment duration before the diagnosis of cutaneous malignancies, including squamous cell carcinoma and basal cell carcinoma, was 13.5 months.3 These lesions are caused by paradoxical activation of mitotic cell pathways by the multikinase inhibitor onto a genetic background of activating mutations of the same pathway.4
Resolution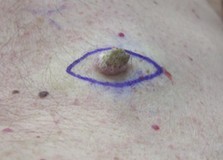 Resolution of cutaneous malignancies with sorafenib was seen following discontinuation of therapy, with no new or persisting keratoacanthoma or squamous cell carcinomas observed.5,6 Also see management of keratoacanthoma and squamous cell carcinoma .
References
1Food and Drug Administration. Nexavar® (sorafenib) Prescribing Information 2013.
2European Medicines Agency. Stivarga® (regorafenib) Summary of Product Characteristics 2013.
3Breaker K, Naam M, La Rosa FG. Skin cancer associated with the use of sorafenib and sunitinib for renal cell carcinoma. Dermatol Surg. 2013;39:981–987.
4Oberholzer A, et al. RAS mutations are associated with the development of cutaneous squamous cell tumors in patients treated with RAF inhibitors. J Clin Oncol. 2012;30: 316-321.
5McLellan B, Kerr H. Cutaneous toxicities of the multikinase inhibitors sorafenib and sunitinib. Dermatol Ther. 2011;24:396–400.
6Arnault JP, et al. Keratoacanthomas and squamous cell carcinomas in patients receiving sorafenib. J Clin Oncol. 2009;27:e59–e61.
Last update:
22 August 2014