OncologyPRO structure explained
OncologyPRO has evolved in July 2017 to offer you direct access to our rich content either by tumour site or according to the objectives of your visit.
We have integrated extensive feedback from our users and the experts from the OncologyPRO Working Group.
Content organised by tumour sites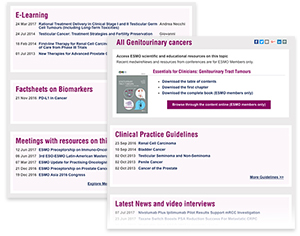 Find direct access to Guidelines, oncology news, educational material, ESMO Publications and meeting resources for each main tumour site.
Explore the Tumour Sites section
What are the objectives of your visit?
Last update:
10 July 2017