Genitourinary Tract Tumours: Essentials for Clinicians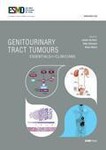 Browse through the content online (ESMO members only)
Genitourinary Tract Tumours is the third title within the very popular "Essentials for Clinicians" series. Genitourinary Tract Tumours: Essentials for Clinicians, has been developed with young oncologists in mind, providing the most important information in a concise, clear and accessible way. It starts with the essential information or "what every oncologist should know" by detailing the staging and treatment of the more common genitourinary tract tumours. In the second half, this information is built upon and complemented with more advanced information on rare tumours and new or novel treatment options. With details on the latest research and up-to-date practice concepts this publication is also useful to doctors or students who may have never dealt with this topic, but wish to understand the core concepts in the management of these tumours. Its visual and interactive format enables the reader to easily assimilate the information, laying a perfect theoretical foundation to build upon.
Treatment paradigms have rapidly changed in the field of urogenital oncology. This new volume in the series "Essentials for Clinicians" provides readers with an update and comprehensive overview of urogenital malignancies, with a focus on bladder, prostate, renal, and testicular cancer, and also includes more uncommon cancers such as penile and adrenal tumours. We have strived to provide our readers with a complete overview, including pathology, epidemiology, diagnosis, and treatment encompassing surgical, radiotherapeutic, and medical oncological modalities. We have followed the successful and well-received format that has been developed for the ESMO "Essentials for Clinicians" series. The book uses concise text paired with informative illustrations, and includes a very useful appendices section with treatment schedules and staging classifications. It is aimed at medical oncologists-in-training; however, the book is also informative for other physicians and practitioners in the field of urogenital oncology.
Professor Johann de Bono
London, United Kingdom
The content of this Essentials for Clinicians on Genitourinary Tract Tumours is restricted to ESMO members only.
Part A: What Every Oncologist/Haematologist Should Know
Chapter 1 - Anatomy of the GU Tract and Histology of GU Tumours
Chapter 2 - Staging and Treatment of Localised Prostate Cancer
Chapter 3 - Treatment of Metastatic Prostate Cancer
Chapter 4 - Staging and Treatment of Localised Bladder Cancer
Chapter 5 - Metastatic Urothelial Bladder Cancer
Chapter 6 - Staging and Treatment of Localised Renal Cell Cancer
Chapter 7 - Treatment of Metastatic Renal Cell Cancer
Chapter 8 - Staging and Treatment of Stage I Testicular Cancer
Chapter 9 - Treatment of Metastatic Germ Cell Tumours
Part B: More Advanced Knowledge
Chapter 10 - Epidemiology, Risk Factors, and Screening for Prostate Cancer
Chapter 11 - Rare Tumours of Prostate, Kidney, Bladder, and Testis
Chapter 12 - Other Rare Tumours (Upper Tract Transitional Cell Carcinoma, Malignant Adrenal Tumours, Penile Cancer)
Chapter 13 - Hereditary Kidney Cancer Syndromes
Chapter 14 - New Drugs and Novel Treatment Strategies for Prostate Cancer
Chapter 15 - New Drugs and Novel Treatment Strategies for Kidney Cancer
Appendices