Tissue Acquisition: Surgery Versus Biopsy
Chapter 7 - Surgery, Indications and Limitations
The goal of surgery in suspected glioblastoma is histological (+ molecular genetic) confirmation, and cytoreduction with the aim of safely removing the solid tumour volume.
Molecular genetic analyses (e.g. MGMT promoter Methylation, IDH mutation or loss of heterogeneity 1p/19q) can be performed reliably from small biopsy specimens.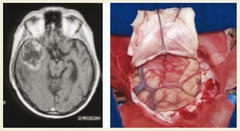 Surgical resection is considered the treatment of choice if complete resection of at least all contrast-enhancing tumour on MRI can be achieved safely.
Only complete resection has prognostic benefit, whereas partial tumour resection does not seem to improve prognosis compared with biopsy alone.
Tumour debulking, in order to realise external beam radiation and to avoid the risk of brain herniation in cases of existing mass effects, may sometimes be necessary.
Different studies have revealed younger age, a good preoperative clinical status (Karnofsky Performance Status [KPS]) and greater extent of resection as prognostically favourable.
However, the DIRECTOR trial indicated that only complete resection of contrast-enhancing tumour at first recurrence of glioblastoma improves patient outcome.
Revision Questions
Describe indications for tumour resection versus biopsy for suspected malignant gliomas.
What are the primary goals and limitations of the different surgical procedures?
Which prognostic factors are favourable/unfavourable for tumour resection in recurrent gliomas?
Download

files

Related

links
Last update:
18 September 2017