Radiotherapy in Oligodendroglioma
Chapter 6 - The Essentials in Radiation Oncology for Brain Tumours
Radiotherapy in Oligodendroglioma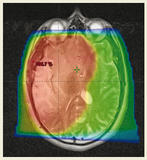 Grade 3 1p/19q codeleted oligodendrogliomas (anaplastic oligodendrogliomas) are traditionally treated with primary RT and adjuvant nitrosourea-containing ChT (usually the PCV [procarbazine, lomustine and vincristine] regimen). Conformal RT is given to a dose of 59.4 Gy in 33 fractions (1.8 Gy per fraction). The combination achieves the best long-term survival and disease control.
Radiotherapy in Skull Base Tumours
Although proton therapy is frequently employed, there is no evidence that it offers superior results either in terms of efficacy or toxicity. The most important Prognostic factor is the extent of surgery.
Radiotherapy for Brain Metastases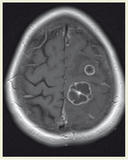 RT is the mainstay of treatment in brain metastases. Patients with symptomatic multiple brain metastases from a variety of tumours can be treated with WBRT, generally given as 20 Gy in 5 fractions.
Patients with solitary lesions which are not excisable are effectively treated with single-fraction radiosurgery. WBRT is no longer recommended as an additional treatment following surgery or radiosurgery. It is also not used in patients with adverse prognostic factors and short life expectancy, as it is not associated with a survival gain or quality of life gain compared with supportive care alone. The addition of concomitant ChT is not associated with a survival gain.
Revision Questions
What is the common genetic abnormality in oligodendrogliomas?
What are the challenges of treatment for chordoma and chondrosarcoma?
What are the RT treatment options for brain metastases?
Download

files

Related

links
Last update:
18 September 2017