Radiotherapy in Germ Cell Tumours
Chapter 6 - The Essentials in Radiation Oncology for Brain Tumours
Radiotherapy in Germ Cell Tumours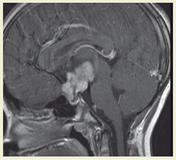 RT is a curative treatment in cranial germinomas, which principally occur in the pineal or suprasellar regions. It is given as low-dose craniospinal irradiation or as low-dose whole ventricular radiation, followed by a boost to the primary tumour site.
Craniospinal RT and a boost are used as adjuvant treatment in cranial non-germinomatous germ cell tumours, following chemotherapy (ChT) and surgery.
Radiotherapy in Medulloblastoma and Ependymoma
Fractionated localised RT is of value following excision of both Grade 2 and Grade 3 ependymomas. Craniospinal irradiation is used only in the presence of dissemination.
Radiotherapy in Astrocytic Tumours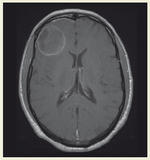 RT is the primary treatment of malignant glioma. As fractionated conformal RT to a dose of 60 Gy in 30 fractions, it is associated with a survival gain in the region of 6 months, shown in randomised trials in glioblastoma (Grade 4 astrocytoma). Patients aged over 70 years benefit from a shorter, less intensive treatment, resulting in a better outcome than an intensive 6-week course. The addition of ChT provides further survival benefit.
Elderly patients with known methylated O6-methylguanine-DNA methyltransferase (MGMT) may alternatively be treated with conventional dosing of temozolomide.
The role and timing of RT in patients with Grade 2 astrocytoma is still debated. Conventionally, it is offered as fractionated conformal RT to patients with progressive and/or transforming tumours following a period of surveillance, and is given at a dose of 54–60 Gy in 25–33 fractions at ≤2 Gy per fraction.
Revision Questions
Name three situations where craniospinal RT is indicated.
What are the treatment options for elderly patients with glioblastoma?
What are the indications for RT in patients with Grade 2 astrocytoma?
Download

files

Related

links
Last update:
18 September 2017