Pharmacotherapy
Chapter 4 - Treatment Strategies for Anaplastic Astrocytoma and Glioblastoma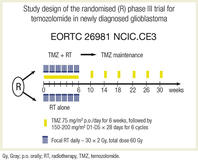 Temozolomide (TMZ) concomitant with RT, followed by six cycles of maintenance TMZ (TMZ/RT→TMZ), is the standard of care for glioblastoma.
In glioblastoma and IDH wildtype anaplastic glioma, benefit from TMZ is largely restricted to patients with tumours with O6-methylguanine-DNA methyltransferase (MGMT) promoter Methylation.
The MGMT status needs to be determined with a validated test. Methylation-specific<\strong> polymerase chain reaction (MSP<\strong>) is the standard method; pyrosequencing is an alterative option.<\p>
Elderly glioblastoma patients are treated based on MGMT status, either with RT (unmethylated) or TMZ with or without RT (methylated).
Anaplastic astrocytoma without IDH1/2 mutation is increasingly treated like glioblastoma.
Typical anaplastic astrocytoma (IDH1/2 mutant, no 1p/19q codeletion) is treated with RT alone or TMZ/RT→TMZ.
In newly diagnosed glioblastoma, bevacizumab prolongs progression-free survival but not overall survival.
Nitrosoureas, mostly lomustine (CCNU), are commonly selected as the standard of care systemic treatment at recurrence.
Revision Questions
What is the standard duration of maintenance temozolomide in newly diagnosed glioblastoma?
What is the predictive marker for benefit from temozolomide in glioblastoma and IDH wildtype anaplastic glioma?
Why did the EU not approve bevacizumab for recurrent glioblastoma?
Download

files

Related

links
Last update:
18 September 2017