Options at Progression/Recurrence
Chapter 9 - Treatment of Oligodendroglioma (IDHmt, 1p/19q Codeleted)
There are no randomised phase III studies guiding treatment of recurrent oligodendroglioma at this stage.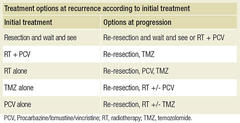 Depending on initial treatment, options at progression include repeated surgery, RT and/or ChT (TMZ or PCV).
In patients with recurrent low-grade oligodendroglioma, a careful wait and see policy after subtotal re-resection is an option.
Recurrent oligodendrogliomas after RT alone are usually chemosensitive. At this time, PCV and TMZ seem equally effective.
Patients who progress after initial treatment with ChT alone should receive RT (probably associated with ChT).
Retrospective studies suggest that recurrent oligodendrogliomas can also respond to bevacizumab-containing regimens; any survival benefit, however, remains to be established.
Similarly, the optimal treatment at recurrence after initial treatment with RT plus PCV remains to be determined.
Strategies (hypomethylating agents, specific inhibitors, vaccination) directed against the IDH mutation might help treat recurrent oligodendrogliomas in the future.
Revision Questions
Is there a standard treatment for oligodendrogliomas?
Can patients who progress after RT plus PCV respond to TMZ?
In the future, which strategy might help in treating recurrent oligodendrogliomas?
Download

files

Related

links
Last update:
18 September 2017