Leptomeningeal Metastasis
Chapter 8 - Management of CNS Metastases
Neoplastic meningiosis may present with headache, neck or back pain, confusion, cranial nerve palsy or radicular symptoms like Paraesthesia or paresis.
Neoplastic meningiosis is most common in patients with breast cancer, lung cancer, melanoma or haematological neoplasms (lymphoma, leukaemia).
There is a lack of controlled clinical trials guiding clinical decision-making, and treatment should be discussed in a multidisciplinary setting (tumour board).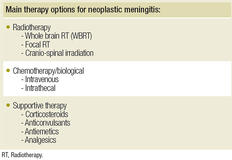 The main treatment options for neoplastic meningioses comprise supportive therapy, RT and systemic or intrathecal ChT.
RT is most commonly applied as WBRT or focal irradiation of solid meningeal tumour nodules.
The efficacy of systemic therapy including ChT and targeted agents against neoplastic meningiosis is unclear.
Intrathecal therapy may be applied via an intraventricular catheter system (Ommaya or Rickham reservoir) or repeated lumbar punctures.
For intrathecal therapy, methotrexate and (liposomal) cytarabine are most commonly used. Other drugs include thiotepa, etoposide and trastuzumab.
Revision Questions
Which tumour types most commonly cause meningeal spread?
Discuss the different modes of intrathecal therapy.
What are the main treatment options for leptomeningeal metastasis?
Download

files

Related

links
Last update:
18 September 2017