Interdisciplinarity, Follow-up and Rehabilitation
Chapter 13 - Management of Spinal Tumours
Treatment of intramedullary and intradural–extramedullary tumours is a surgical domain with superior long-term results. Radiotherapy must be considered in malignant tumours.
As a general rule, extradural spinal tumours can be treated with radiation or have to be irradiated after primary decompression and stabilisation (photons or protons [e.g. chordomas]). Oncological treatment of primary cancer is mandatory.
The follow-up of metastatic spinal tumour diseases relates to the follow-up algorithm of the primary cancer.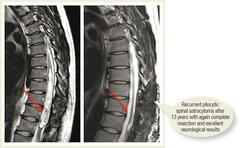 Benign intradural pathologies show recurrence in a low percentage. Therefore MRI control has to be performed initially on a yearly basis, with extended intervals in the long-term follow-up.
In terms of recurrent tumour manifestations, all potential treatment options should be discussed in an interdisciplinary setting.
Patients with malignant diseases and reduced life expectancy benefit from a short (one-month) rehabilitation programme to adapt to their new functional status.
Patients with better oncological prognosis benefit from a short intensive rehabilitation programme, followed by physical therapy and occupational therapy, potentially lifelong.
Revision Questions
On which algorithm does the follow-up of spinal metastasis depend?
Which diagnostic method is the first choice in the follow-up of intradural tumours?
What proportion of patients improve directly post surgery after resection of spinal intramedullary tumours?
Download

files

Related

links
Last update:
18 September 2017