Ependymomas
Chapter 11 - Classification and Treatment of Paediatric Brain Tumours
Ependymomas account for 10% of all primary CNS tumours in children. The highest incidence in children occurs in the first 7 years of life.
Clinical Presentation
The clinical presentation depends on tumour location: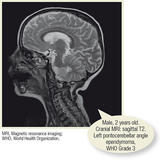 Infratentorial (posterior fossa) ependymoma:
In children, approximately 65%–75% of ependymomas arise in the posterior fossa. Children may present with signs and symptoms of obstructive hydrocephalus due to obstruction at the level of the fourth ventricle. They may also present with ataxia, neck pain or cranial nerve palsies.
Supratentorial ependymoma: May result in headache, seizures or location-dependent focal neurological deficits.
Spinal cord ependymoma: Often the myxopapillary variant, tends to cause back pain, lower extremity weakness and/or bowel and bladder dysfunction.
Treatment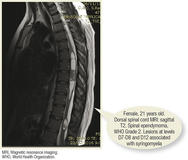 The primary treatment remains surgical resection followed by RT, with gross total resection frequently reported as the most important Prognostic factor.
Although postoperative RT may induce stabilisation and occasionally disease regression, most incompletely resected tumours ultimately progress.
Adjuvant ChT has yet to predictably affect outcome, possibly due to the molecular heterogeneity of histologically similar tumours.
Prognosis
Survivors often experience serious physical and neurocognitive disabilities secondary to the disease and its treatment.
Revision Questions
What is the most common location for ependymomas in children?
What is the 5-year progression-free survival for children with ependymoma?
What is the main prognostic factor in paediatric ependymoma?
Download

files

Related

links
Last update:
18 September 2017