Basic Considerations
Chapter 7 - Surgery, Indications and Limitations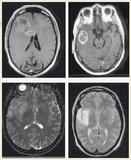 T1-weighted magnetic resonance imaging (MRI) with contrast enhancement (CE) in all three planes plus T2/FLAIR-weighted images are mandatory to properly delineate brain anatomy.
Magnetic resonance spectroscopy (MRS) or diffusion-weighted images may provide more information about the anatomical boundaries, and about functional areas within the brain.
Differentiation between the tumour infiltration zone and normal brain remains insufficient based on this information alone.
Non-contrast enhancing parts of the tumour contribute significantly to the overall outcome in patients with malignant gliomas.
Positron emission tomography (PET) with amino acid tracers like O-(2-[18F] uoroethyl)-L-tyrosine (FET) may, to some extent, differentiate between tumour and brain.
18F-FET PET along with other markers such as [18F]fluorothymidine (FLT) may also provide additional information about tumour volume and prognosis.
Preservation of the functional integrity is absolutely mandatory for every surgical approach in malignant glioma surgery.
Functional MRI is unreliable with regard to language testing, and should therefore not be used without intraoperative mapping.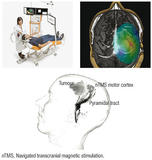 Transcranial magnetic stimulation (TMS) preoperatively correlates neurocognitive and neuropsychological testing by stimulating cortical areas transcranially with MRI.
Revision Questions
What are the main prerequisites to consider before glioma surgery?
Which diagnostic procedures should be performed before surgery?
What are the indications and limitations of these methods?
Download

files

Related

links
Last update:
18 September 2017