Practice of Radiotherapy
Chapter 6 - The Essentials in Radiation Oncology for Brain Tumours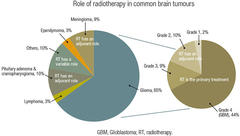 Radiotherapy (RT) using photons (X-rays) is the mainstay of treatment in the majority of brain tumours not cured by surgery.
| | |
| --- | --- |
| Radiotherapy applications in brain tumours | Examples of tumour type |
| Cure | Cranial germinoma |
| Lifelong tumour control | Benign tumours (e.g. in optic pathway glioma and meningioma) |
| Pivotal component of curative treatment | Malignant brain tumours (e.g. medulloblastoma) |
| Survival prolongation | Malignant glial tumours |
| Effective palliative treatment | Brain metastases |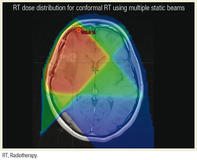 Cranial RT is delivered mostly as fractionated external beam RT using a linear accelerator (LINAC). The high-dose volume of radiation, delivered by multiple static or moving beams, conforms to the shape of the tumour, avoiding normal tissues, the technique being known as conformal RT. Intensity-modulated RT (IMRT) is a variant of conformal RT which allows for avoidance of specific structures.
For disseminating tumours such as medulloblastoma, RT is given to the whole craniospinal axis (brain and spinal cord). For extensive tumours or multiple tumours such as brain metastases, it is given as whole brain RT (WBRT). For the majority of brain tumours requiring RT, it is delivered as localised conformal RT.
Small targets can be given with high precision as single-dose RT, described as stereotactic radiosurgery (SRS). If given in multiple treatments, it is described as fractionated stereotactic RT (FSRT). Stereotactic RT can be delivered with a LINAC, dedicated multi-headed cobalt unit (Gamma knife®) or robotic arm-mounted small LINAC (Cyberknife®).
Proton beam RT, which has the same biological effect as photon RT, is increasingly explored in cranial irradiation, due to the potential reduction in radiation dose beyond the target. Currently proton RT remains a complex treatment with many uncertainties and no single indications showing superior results compared with modern photon RT.
Revision Questions
Name two brain tumours that can be cured with RT.
What are the different techniques for RT?
What are the methods used to deliver SRS?
Download

files

Related

links
Last update:
18 September 2017