Compartments, Diagnosis and Presentation
Chapter 13 - Management of Spinal Tumours
Ninety-five percent of extradural tumours are metastases and the remaining 5% are primary bone tumours.
Intradural neuromas, ependymomas and meningiomas are most frequently found. Intra-axial ependymomas, astrocytomas and haemangiomas are also diagnosed.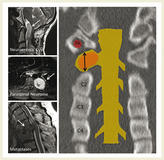 Magnetic resonance imaging (MRI) is the first choice diagnostic procedure in spinal tumour disease. X-ray and computed tomography (CT) are used in diagnosing intramedullary lesions but not in extramedullary.
Clinical differential diagnoses of intramedullary tumours are: infectious diseases, degeneration of dorsal column, vitamin B12 or folic acid deficit or vascular lesions.
Positron emission tomography (PET)-CT or PET-MRI and scintigraphy with additional SPECT may be helpful to evaluate the tumour extent within the staging process of extradural lesions.
Extramedullary pain with subsequent radicular symptoms and more or less prominent paraparesis are common. But acute deterioration due to pathological fracture or bleeding can also occur.
Sensory deficits, proprioception deficits and pain are the leading symptoms in patients with intramedullary tumours.
Revision Questions
What are the three typical compartments of spinal tumour occurrence?
Which differential diagnoses have to be kept in mind in intramedullary spinal tumours?
Which symptoms occur primarily in extradural (bone) tumours or metastases?
Download

files

Related

links
Last update:
18 September 2017