Brainstem Gliomas
Chapter 11 - Classification and Treatment of Paediatric Brain Tumours
Brainstem gliomas account for 20% of all CNS tumours in children and are characterised by heterogeneous biological behaviour.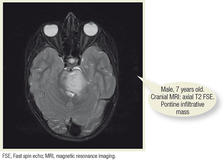 Usually the diagnosis is performed by MRI. Median age at presentation is 5–7 years.
To date, the prognosis for children with brainstem glioma remains poor.
RT is the standard care, leading to temporary clinical improvement in a substantial proportion of patients. Until now, a number of trials with conventional ChT failed to demonstrate an advantage over RT alone.
Revision Questions
What percentage of paediatric CNS tumours are brainstem gliomas?
How is the diagnosis of brainstem gliomas in children generally obtained?
What is the median age of occurrence for paediatric brainstem gliomas?
Download

files

Related

links
Last update:
18 September 2017