Head & Neck Cancers: Essentials for Clinicians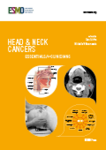 Browse through the content online (ESMO members only)
Head & Neck Cancers: Essentials for Clinicians provides the most clinically relevant and updated information for optimal prevention, diagnosis and treatment of this heterogeneous group of tumours.
Although classified as rare cancers, head and neck cancers together represent a very large group of malignancies, lying around fifth in terms of absolute worldwide incidence (this volume also includes thyroid cancers).
This publication is structured into two sections: one covering the basics of what every oncologist should know and the other providing more advanced information, including discussion of rarer subtypes such as nasopharyngeal cancer and salivary gland cancers.
High-quality illustrations and a clear layout make the book an easy-to-use and accessible source of knowledge, and provide a balanced and up-to-date summary of the current state of the art for students and physicians interested in cancers of the head and neck.
The title is the sixth in the popular Essentials for Clinicians series, created to explain complicated concepts in the management of tumours in a concise, clear and accessible way, giving the reader a strong theoretical foundation that can then be built upon.
Editors
The content of this Essentials for Clinicians on Head and Neck Cancers is restricted to ESMO members only.
Part A: What Every Oncologist Should Know
Chapter 1 - Epidemiology, Risk factors and Pathogenesis of Squamous Cell Tumours
Chapter 2 - Diagnosis and Staging of Squamous Cell Tumours
Chapter 3 - Histopathological and Molecular Characterisation of Squamous Cell Tumours
Chapter 4 - Site- and Stage-driven Treatment Strategy in Non-metastatic Disease
Chapter 5 - Principles of Surgery of Squamous Cell Tumours
Chapter 6 - Principles of Radiotherapy of Squamous Cell Tumours
Chapter 7 - Treatment of Recurrent or Metastatic Disease
Chapter 8 - Thyroid Carcinomas
Part B: More Advanced Knowledge
Chapter 9 - Nasopharyngeal Carcinoma
Chapter 10 - Salivary Gland Tumours
Chapter 11 - Individualised Supportive Care Before and During Curative Treatment of Head and Neck Tumours
Chapter 12 - Emerging Targets and New Agents in Squamous Head and Neck Tumours
Appendices